Project overview
ColdHubs is a solar-powered cold storage designed to reduce post-harvest losses for smallholder farmers in Africa, Latin America and Southeast Asia. 
According to ColdHubs, 45 percent of food spoils in developing countries are mainly due to a lack of cold storage. 470 million smallholder farmers lose 25 percent of their annual income. Perishable food especially fresh fruits and vegetables start to deteriorate as soon as they are harvested because they are cut off from their source of water and nutrition. They lose weight, texture, flavor, nutritional value and appeal. Cooling significantly slows down the rate of deterioration, thereby increasing the storage life of the produce.
ColdHubs solves this problem through a walk-in, solar-powered cold stations for 24/7 storage and preservation that extends shelf life of perishable food from 2 to 21 days. It's a "plug and play" modular, solar-powered walk-in cold room, for 24/7 off-grid storage and preservation of perishable foods. It adequately addresses the problem of post- harvest losses in fruits, vegetables and other perishable food.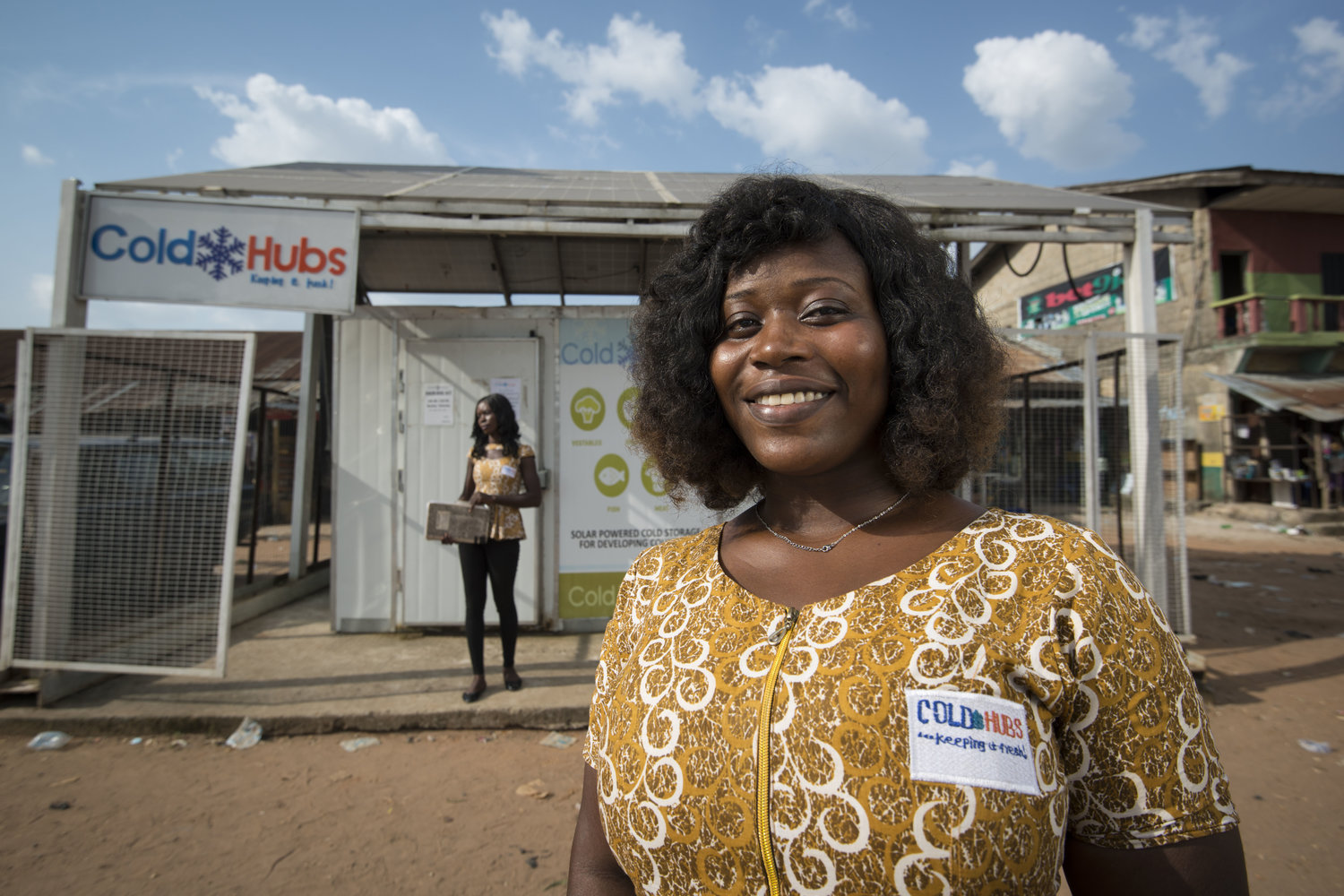 ColdHubs is installed in major food production and consumption centers (such as markets and farms). Farmers place their produce in clean plastic crates, and these plastic crates are stacked inside the cold room. This practice extends the freshness of fruits, vegetables and other perishable food. The solar powered walk-in cold room is made of 120mm insulating cold room panels to retain cold. Energy from solar panels mounted on the roof-top of the cold room are stored in high capacity batteries. These batteries feed an inverter which in turn feeds the refrigerating unit.
Coldhubs offers farmers with a flexible pay-as-you-store subscription model. In preparation for storage, farmers transfer their perishable foods into our reusable crates, which fit neatly onto the shelves. Farmers pay a daily flat fee for each crate of food they store.
The Social Impact

Tanzania Pilot
With the support of WFP's Innovation Accelerator, a new pilot will include designing, assembling, installing and commissioning one ColdHub in a vegetable and fruit market in Tanzania. The hub will be introduced to local smallholder farmers, retailers and wholesalers and will be closely tracked to measure impact. Results from the pilot phase will be used to inform future expansion throughout Tanzania.
About the Founder
ColdHubs was founded in Nigeria by Nnaemeka Ikegwuonu, a farmer, radio presenter, social entrepreneur and CEO of the Nigerian Smallholders Foundation. Nnaemeka has a track-record of creating solutions for smallholder farmers in Africa including; the Smallholder Farmer Rural Radio, the Agriprenuership Academy, the Smallholders Seed Store, and the Smallholders Microcredit amongst others. His efforts in supporting smallholder farmers has been recognised internationally, with awards including Ashoka Fellow 2008, Rolex Award 2010, and Fast Company's "100 Most Creative in Business 2012".