Project overview
Farm from a Box units contain a complete ecosystem of smart farm technologies to enhance agricultural productivity
Founded by Scott Thompson and Brandi DeCarli, Farm from a Box empowers local communities by providing them with the tools required to start and maintain a 2-acre farm, grow their own food and earn an income. WFP and Farm from a Box have teamed up to make sure this innovative solution can be accessed by those who need it the most.
The 'box' is built from a modified shipping container, with each unit containing a complete ecosystem of smart farm technologies to enhance agricultural productivity, from renewable power and micro-drip irrigation, to Information and Communications Technology. This off-grid toolkit combines regenerative agriculture techniques with precision farming technology, and can be adapted to accommodate different environments and growing conditions. A training programme covering sustainable farming practices, technology use and maintenance, as well as farming as an enterprise, all comes as part of the toolkit.
Integrated Farming Toolkit
Farm from a Box works to bridge the 'access' gap by providing appropriate technologies and training that can help build the resilience of communities, increase and stabilize their farm productivity while stimulating economic growth.
The unit can act as its own micro-grid in remote locations thanks to its own solar powered energy source. Drip irrigation saves water and stabilizes crops through drought conditions while also extending the growing season. Also, internal cold-storage helps keep crops fresher longer, reducing post-harvest loss by 80%. Finally, Wi-Fi connectivity improves information access and exchange, while an Internet of Things (IoT) system helps monitor production and maintenance needs.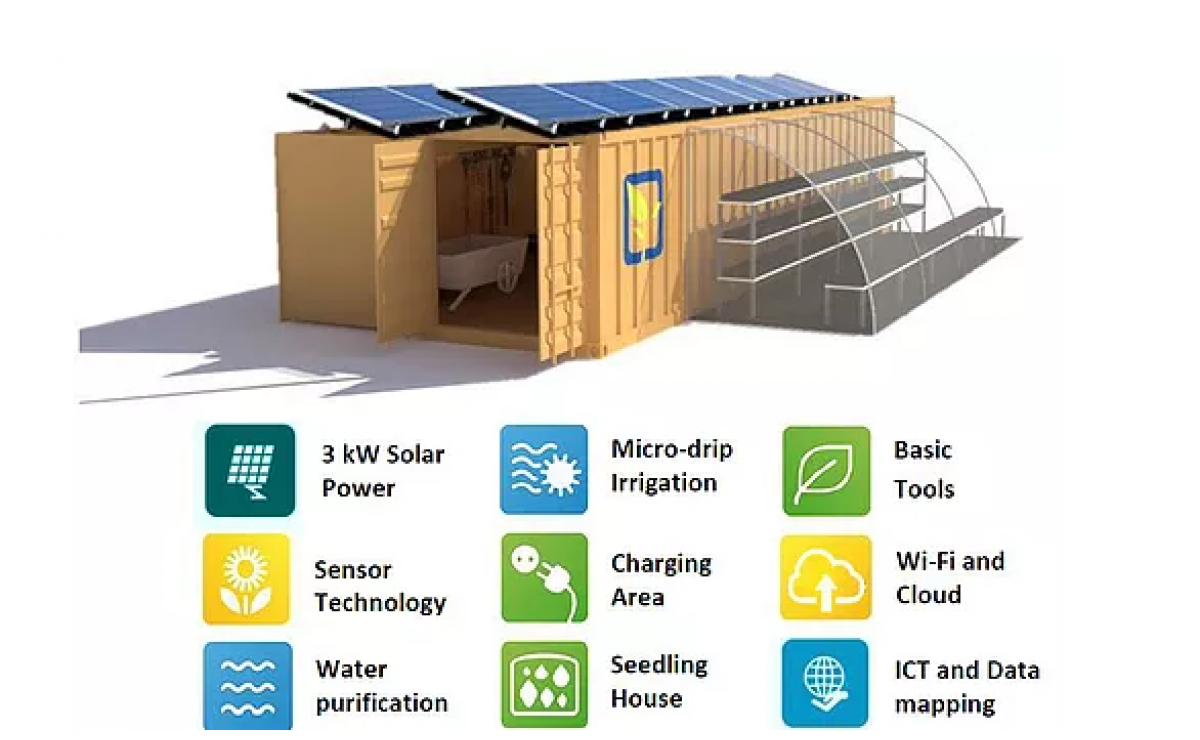 Tanzania Pilot
With support from the WFP Innovation Accelerator, Farm from a Box is being piloted alongside the Tanzania WFP Country Office. Tanzania, an East Africa country, hosts large numbers of refugees from the Democratic Republic of Congo, Burundi and Rwanda. The Nyarugusu refugee camp, in the Kigoma region, is the third largest in the world and currently hosts over 250,000 people. With both refugee and host communities impacted by poverty and food insecurity, Farm from a Box aims promote cross community collaboration.
Farm from a Box will also provide first time digital access to local communities through a Wi-Fi installation, allowing remote communities to connect with each and gain access to information. Access to farming tips, climate trends and weather data helps farmers determine the best options for their field production.