Refugees in Chad are building low-tech hydroponics units to grow fresh animal fodder and fight hunger
The Problem
Eastern Chad is home to 327,000 refugees who have fled conflict in western Sudan's Darfur region since early 2003. Most of them live in harsh conditions in camps along the border, and are exposed to protracted droughts and unpredictable rainfall that hamper agricultural and livestock activities.
Chad is part of the Sahel region, which has been experiencing some of the worst conditions in years and has some of the highest malnutrition rates in the world. While much progress is being made in some Sahel countries, we need to protect resilience gains and prevent any deterioration in nutritional status and food security. WFP continues to build the humanitarian and development nexus in Chad, supporting families to become self-reliant and more resilient to shocks.
The Chad Hydroponics Solution
WFP is exploring hydroponic solutions to reinforce food assistance activities in Chad. Local innovators, alongside WFP experts, are currently growing fresh fodder with the aim to increase the production of milk and meat and improve people's nutrition. To render the initiative sustainable over time, Chadian innovators identified and sourced local materials for the hydroponics units.
The project in Chad builds on WFP's experience at the Sahrawi refugee camps of Algeria, where simple hydroponic production units using only local materials are used to grow fresh fodder for their goats. Similar environmental conditions have inspired this venture.
The Impact
The project is currently being piloted in the camps of Touloum, Iridimi and Amnabak, as well as with the host community of Iriba, Chad. During the first half of 2018, WFP set up 40 hydroponic units and will install 100 additional units by the end of 2018, supporting Sudanese refugees in the Sahel.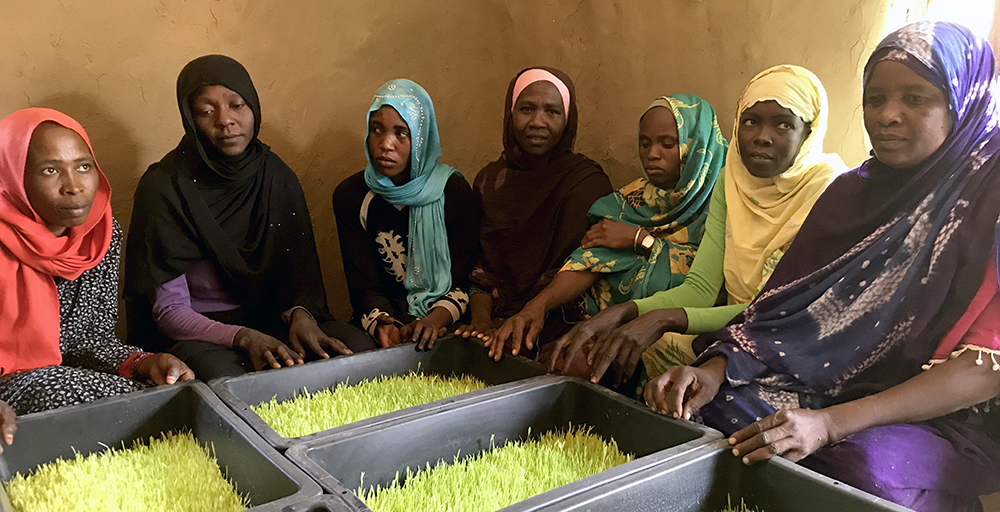 Meet Arafa
Arafa is one of the thousands of refugees who fled to the camps of Touloum, Iridimi. Fourteen years later, she is still living in the camp where she works as a teacher. Like many other community members, she relies on her livestock to feed her children and her elderly parents. In these harsh conditions, however, her animals had been feeding off garbage, like plastic and paper trash, which was resulting in poor quality milk and meat.
In 2018, we visited the Chadian camp where we met Arafa. During brainstorming discussions, she stood out in the crowd with her drive and motivation to act and improve her family's situation. Today, Arafa is one of the refugees who have built their own hydroponic units using locally available materials in Chad. Her units are already growing fresh animal fodder that is helping to provide more and better-quality milk to her family.