21 September 2018
A concept we may think we understand, but may have never fully considered. What does it mean to us, and how can we best leverage it in working towards new and innovative solutions to solve global hunger, saving lives and changing lives along the way?
Sandra RAAD, Programme Policy Officer and Innovation Consultant with WFP in Lebanon/Munich, has a long history with the word. Having studied graphic design and art direction in Lebanon, Sandra worked as a brand consultant for several years, helping businesses define their strategies and refine their messaging. After moving to London to complete a master's degree in publishing management (focusing on new media), she transitioned to a business design consultancy back in Lebanon, and was introduced to the world of Human Centred Design (HCD) and new research methodologies.

Sandra then learned that WFP was about to launch a project in Lebanon called "Tech for Food", connecting Syrian refugees to digital work to support themselves and their families, and was looking for a manager to oversee the pilot. Advertised as a short-term opportunity to start, she thought it would be the perfect chance to combine her background in project design and branding with her skills in management and passion for humanitarianism.
Indeed, Sandra's early experiences with Tech for Food (aka "T4F") were rewarding, as she felt the freedom to push the pilot as far as possible, really striving towards the goal of linking refugees to the future of work through skills training and job placement, giving her the chance to implement big design thinking at a high level. The initial few months' pilot extended, and after nine months the team was already able to open a new training campus!
Empowered to bring her designer's approach to project management, Sandra was able to speak fluently about new and innovative approaches to team members who may not have been exposed to them on a regular basis. After nine months in Lebanon, it was the right moment to design a "Tech for Food 2.0", so to speak, this time in Iraq (in fact, a year ago the Innovation Accelerator posed a design challenge to the larger WFP and Innovation communities). Sandra and her team adapted the learnings from the first pilot, and had to rework them to fit a new host government's policies, essentially starting from scratch. She spent just under a year in Iraq, and also came to the Accelerator in Munich on three or four occasions, to make this vision a reality.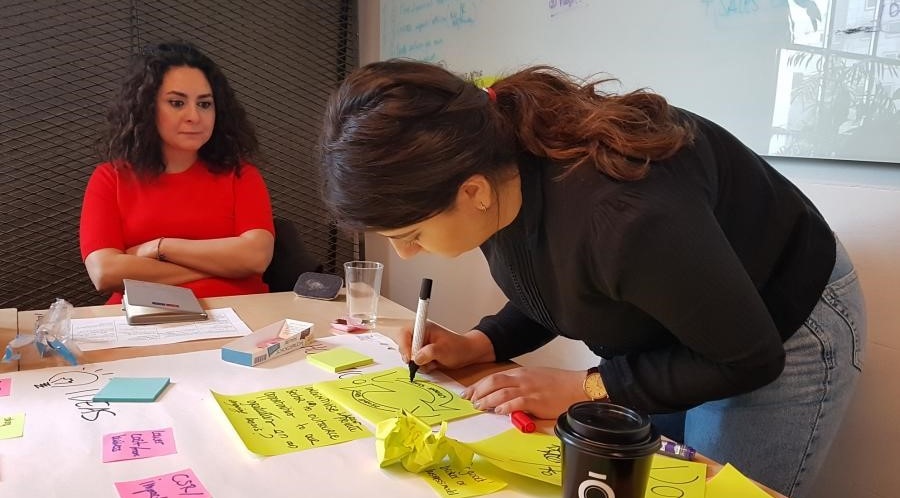 Sandra's experiences in Lebanon and Iraq point towards one of the three most important pillars in design, in her view:
1. Always put people at the centre of your thinking. In the private sector, the terms "consumer and client" are frequently used. In the innovation sphere, it's often "user". When it comes to Tech for Food and WFP, "beneficiary", or maybe better yet "community member" is more accurate. The refugee student who is learning technical skills to apply them to real-world digital work opportunities is very much an active participant in this process (you can watch some stories here).
For example, when it came to T4F's roll-out in Iraq, relying on outside research which showed that many of the Syrian refugees with whom the team planned to engage already had enough digital skills to start working immediately proved false. Instead, halfway through the process, Sandra and the team realized that basic skills training (and what would amount to a "refresher" for some) was not only necessary, but very much welcomed and asked for by the participants. In short, it would have been best to do a participant survey or gauge skill levels on an individual basis beforehand - more of a true HCD approach.
Sandra emphasizes the importance of helping people feel that they are engaged in the design process - a kind of "IKEA" strategy. When someone feels like they've actually participated in the making of something (e.g. a table or chair you've put together yourself with dissembled parts), they are more likely to have a sense of satisfaction, or "ownership" of that final product.
2.  Seek collaboration, partnerships and remain open to feedback (both positive and negative). Try to create synergies and partnerships within the teams, reaching out to other units for allies and for feedback, even if that person's expertise may not seem directly related to the project. It's important to solicit "outside views" and fresh perspectives. Don't be afraid to seek feedback or collaboration opportunities outside of the organization, either, keeping in mind that there is likely always someone out there working on the solution that you need.
3. Don't be afraid of uncertainty and going outside the comfort zone.  The final pillar that Sandra emphasizes is that your design idea can, and actually should change, simply by adapting to the circumstances. Tech for Food, for example, is all about connecting refugees to the "future of work" via digital/online job placement and skills training. This can take the form of "micro-work", which is low-skill but high-volume and relatively simple, with a high potential for income generation. Often this involves image annotation, data entry, and the like. But there is also the potential for more customized work opportunities, such as direct-to-customer sales integration, chatbots, and other online business support. Finally, a member of the T4F programme could also become more of a freelancer, working independently on web or interface design. This all depends on the skill level of the person being hired, and also the needs of the employer, and the project manager (who is really a "designer") needs to adapt to that.
Sandra emphasizes that when you do the work to really identify the problem, it's then much easier to design a solution. Ideally, you are putting humans at the centre of this, before anything else, even at the earliest research stages, in the space where the solution will take place, on the ground. But more often than not, the solution is not very obvious, so it's important to keep pushing even if the outcome on the horizon is not very clear.
Tying it back to this year's innovation challenge, you don't have to be Steve Jobs or another tech visionary to be an innovator. But to be an innovator, you must become a designer, or at least think like one. In WFP's case, if you put people, be it a "beneficiary," "community member", or "refugee", at the centre of this, you may make mistakes, you may need to seek feedback, and you may need to reach out to outside partners, but you cannot really go wrong. Every idea deserves to be considered, and every design needs to start somewhere, so why not apply for the 2018 Innovation Challenge? Learn more here.