Dalili is a smartphone application that gives Syrian and Lebanese families up-to-date information on food prices and helps them provide feedback on their shopping experience.
The Problem & Opportunity
Small and densely populated, Lebanon lies at the heart of a region beset by conflict and political instability. The country has shown exceptional solidarity towards people fleeing war and insecurity in neighbouring countries and has the world's highest per capita refugee presence, estimated at one quarter of the overall population.
The spill over from the ongoing war in Syria has exacerbated economic and social challenges, placing a strain on existing resources and already overstretched public services and infrastructure in host communities. 
In response, WFP runs an e-card system as its primary form of food assistance for vulnerable Syrian and Lebanese families who cannot meet their basic food needs. E-cards are loaded each month with US$ 27 per person and can be used to buy food in any of the 500 contracted shops across Lebanon. The system allows refugees to choose the makeup of their meals, gives them access to fresh produce and significantly boosts the local economy.
Worldwide smartphone subscription has been increasing steadily over the last couple of years, and is expected to grow further to 6.8 billion by 2022 from 3.8 billion in 2016, according to the 2017 Ericsson Mobility Report. That growth will partially be within vulnerable populations, including refugees, opening space for innovation towards additional opportunities and better customer experience for those in need.
The Solution
The Dalili -- "my guide" in Arabic -- smartphone app improves the customer experience for the hundreds of thousands of Syrian and Lebanese families that WFP serves in Lebanon. Leveraging the relationships built between WFP and its contracted retailers, a smartphone application collates and displays the items, prices and promotions at these stores. Without leaving their homes, people receiving WFP assistance can browse local stores and easily find the best prices and deals for the products they want to buy. They can also provide anonymous feedback (both positive and negative) on their shopping experience to WFP and the retailers.
As well as improving the shopping experience for people receiving WFP e-card assistance, the application also aims to boost market efficiency, improve competition and ultimately reduce the prices for most popular products. 


 
The Impact
The Dalili application was launched in November 2017 in Qabb Ellias and Bar Ellias in the Bekaa Valley. As of October 2018, it is available in all of Lebanon, with 364 active shops helping to compare 250 items. There are currently more than 700 users on a monthly basis. The app is now available nationwide. In addition, pilots are run in one governorate of Jordan and the Kakuma and Dadaab camps of Kenya.
For refugees, who have traditionally received food in distribution lines, grocery shopping is more than a routine task, it is the freedom to purchase food and cook meals that tie cultural identities. Families across Lebanon use WFP assistance to make traditional Syrian dishes, teaching children the flavours of their country. Just as Dalili connects refugees with retailers, it is the food they purchase and bring home with them that ultimately brings people together.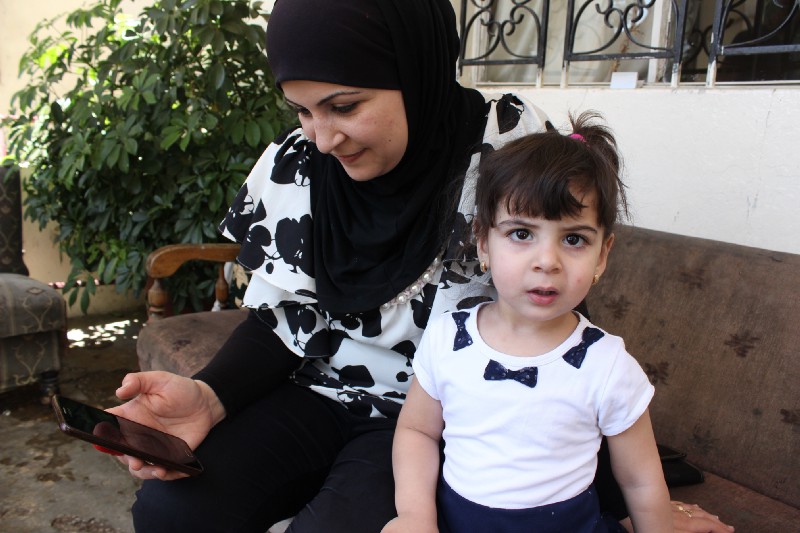 Muna, a shop-savvy refugee, finds her preferred supermarket on Dalili
In the quiet village of Qabb Elias in eastern Lebanon, Muna sits on her porch swiping through Dalili, with her young daughter Lamar by her side. Just a day away from the monthly WFP cash assistance top-up, Muna prepares a grocery list — a ritual familiar to her life back in Syria. Bargain hunting from the comfort of her home, she is excited scrolling through Dalili. "One time I found 4,000 Lebanese pounds (US$ 2.66) savings in milk," she proudly shares. That's enough to buy four bags of pasta, making the promotion worth four dinners for her family.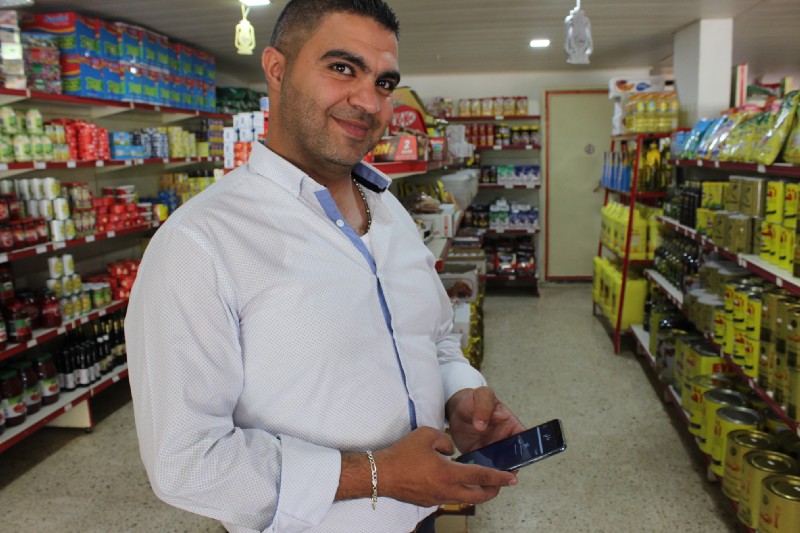 Omar, a shop owner, makes his store more attractive with Dalili
Al-Hayek is a family shop in Qabb Elias, across the street from an informal Syrian refugee settlement where many WFP beneficiaries live. To compete with neighbouring shops, Omar, the owner of Al-Hayek, drastically improved his store with the support of WFP, who provides retail trainings and one-to-one shop consultations on issues ranging from layout to product assortment.
"The store was a mess before working with WFP. I didn't take advantage of the space," Omar says, "and there was little variety in products." Now the shop is rearranged, aisles are categorized, and more items are added, including Syrian brands. He uses Dalili as free advertising for monthly promotions. As a result, there are always new faces in the shop, along with his regular customers.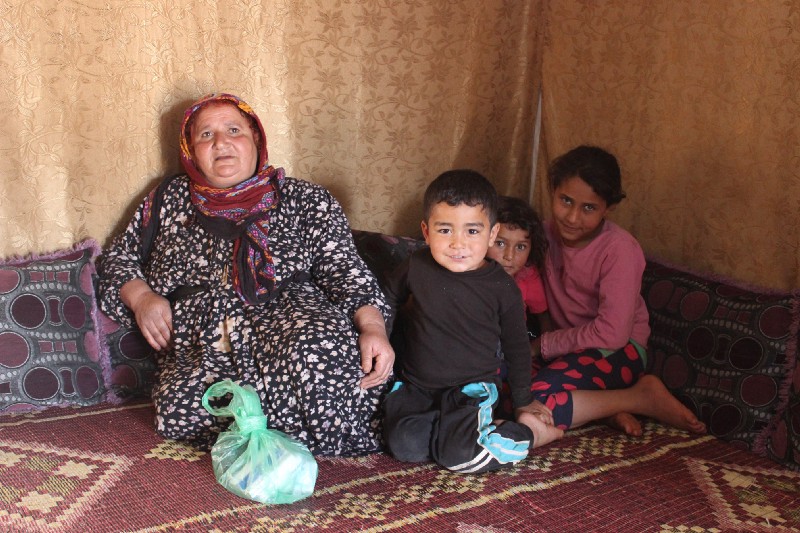 Miram, a grandmother, uses Dalili to provide for her family
As a long-time customer of the Al-Hayek shop in Qabb Elias, Miriam has witnessed its improvements. When she arrived as a refugee from Syria in 2011, she could not afford to grocery shop too often. Now, with WFP assistance, Miriam visits Al-Hayek every month. "It feels good to walk there myself and provide for my family," she says.
And as the sun sets during the holy month of Ramadan, Mariam's sons arrive at her home from nearby tents for iftar. It is her favourite time of day, as her family gathers under one roof for a meal she picked out herself. For refugees, grocery shopping is more than a routine task, it is the freedom to purchase food and cook meals that tie cultural identities. Just as Dalili connects refugees with retailers, it is the food they purchase and bring home with them that ultimately brings people together.