Project overview
WFP is harnessing blockchain technology as an effective means to empower people to meet their essential needs. 
The project has now completed its life cycle with the WFP Innovation Accelerator.
The Opportunity
WFP has been rolling out blockchain technology —a type of distributed ledger technology— as part of its "Building Blocks" pilot, to expand refugees' choices in how they access and spend their cash assistance. WFP is also exploring whether Building Blocks can make cash transfers more efficient, secure and transparent. Most notably, WFP has been using blockchain to deliver food assistance more effectively to 106,000 Syrian refugees in Jordan. Building Blocks facilitates cash transfers while protecting beneficiary data, controlling financial risks, and allowing for greater collaboration.

Blockchain for Zero Hunger
Research shows that direct cash transfers to those in need can be the most effective and efficient way to distribute humanitarian assistance, while also supporting local economies. Globally, WFP is the largest agency delivering humanitarian cash, and in 2019 distributed record of $2.1 billion, reaching over 28 million people in 64 countries.
But distributing cash depends on local financial institutions and, where possible, WFP prioritizes working through and strengthening the local financial ecosystem. However, in some contexts, financial service providers are either insufficient or unreliable. In others, refugees face restrictions in opening bank accounts. That's why in January 2017, WFP initiated a proof-of-concept project in Sindh province, Pakistan, to test the capabilities of using blockchain for authenticating and registering beneficiary transactions. The blockchain technology behind the project allowed direct, secure, and fast transactions between participants and WFP—without requiring a financial intermediary like a bank to connect the two parties.
After refining the project's approach, the next phase of Building Blocks was implemented in two refugee camps in Jordan. Now, over 100,000 people living in the camps can purchase groceries by scanning an iris at checkout. Cash value from WFP or other partners is stored in a beneficiary 'account' maintained on the blockchain, but the cash that beneficiaries receive or spend on goods and services is paid to the beneficiaries or to the retailers through a commercial financial service provider. Built on a private, permissioned blockchain, and integrated with UNHCR's existing biometric authentication technology—WFP has a record of every transaction. This not only saves on financial transaction fees in the camp setting but ensures greater security and privacy for Syrian refugees.

The Father Cooking Flavors from Home
Bassam fled his home in Syria, like many, when the conflicted started. But from the beginning, he's given his children a view of the world beyond the dusty, often monotone avenues of the Zaatari refugee camp where they have lived most their lives. With a friend, he painted a colorful mural of mountains, fruit trees, and a farm he used to visit on weekends. And now he's sharing the flavors of home as well, in part thanks to Building Blocks.
A few times a month, Bassam shops for the ingredients he needs from a grocery store inside the camp. Because the store runs on blockchain, Bassam doesn't worry about losing a food voucher or an external bank having his data — and he pays with an iris scan at checkout. Thanks to the close cooperation between WFP and the store's owner, and feedback from shoppers through Building Blocks, Bassam can suggest which products he needs to cook meals from home for his children.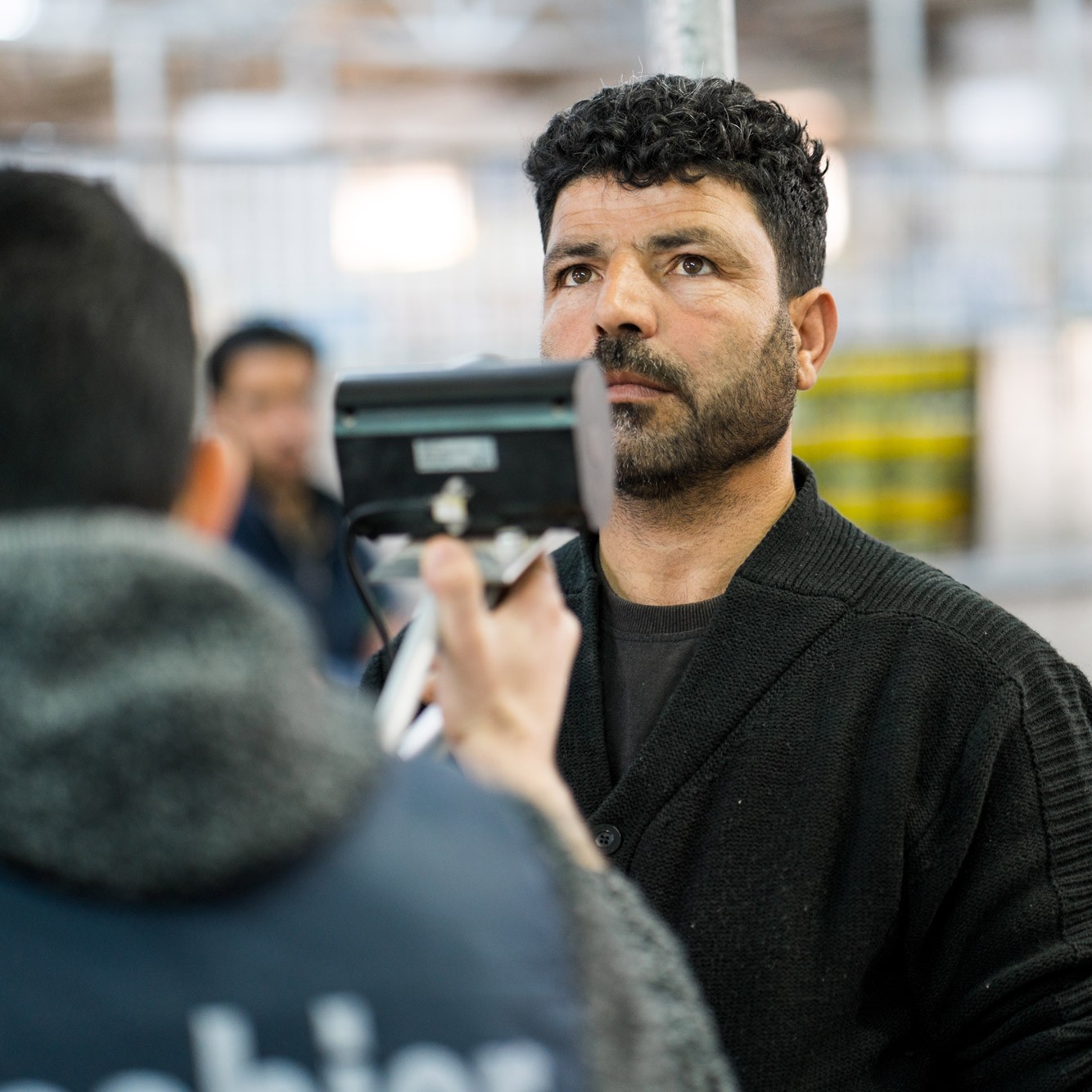 Where We Go from Here
Early tests in Jordan show that the blockchain could help make it safe and efficient for WFP to offer beneficiaries more choice and more control over how and when they receive and spend their cash benefits – e.g. in retail shops, at ATMs, via mobile money, etc. WFP now aims to extend the value proposition of Building Blocks to explore unrestricted cash inside the refugee camps in Jordan to explore how the platform can support wider unrestricted cash distributions, starting with mobile money inside the refugee camps..
In addition, a new Building Blocks partnership will allow Syrian women who participate in the UN Women's Cash for Work Programme to withdraw cash at a supermarket in a Jordanian refugee camp or make purchases directly. And since UN Women and WFP both validate each other's transactions via their own blockchain nodes, the system's security is increased.,
Now, WFP is interested in exploring the application of blockchain technology in areas as diverse as supply chain tracing and digital identity management.
What We Still Need
WFP is inviting other UN agencies and humanitarian actors to collaborate on a neutral blockchain network to improve cooperation, reduce fragmentation, bolster efficiency—and ultimately further empower the people we serve.