WFP's first field innovation hub was established in Tanzania in 2017. Now in its fourth year, the hub has laid the groundwork for catalyzing Tanzania's innovation ecosystem and changing the way WFP approaches both current and future operations. The hub's work is closely aligned with the objectives of WFP Tanzania's country strategic plan, which centers around supporting the Government of Tanzania in its effort to achieve the Sustainable Development Goals, and in particular the Zero Hunger 2030 agenda. The hub's current focus areas are in smallholder agriculture, market access and supply chain, nutrition, emergency preparedness and response, social protection, and support to refugee populations.
The hub draws strength from its connection with the local ecosystem, its proximity to the activities of the WFP country office, as well as its links within the Tanzanian startup community. The hub has strong ties with the Innovation Accelerator, which has continued to provide access to funding, mentors, and high-potential startups from around the world to help achieve its cause.
Our Work
The hub's work in Tanzania includes the following workstreams:  
1) Tailored innovation services: We work together with all units in WFP Tanzania to embed innovation into the design and implementation of existing and planned activities. We help incorporate innovation into project proposals, help secure private sector partnerships, provide support on the development of business cases and advise on the use of emerging technologies. We extend these services to our government partners and other key stakeholders.  
2) Identifying, matching, and piloting innovation projects: We identify challenges within the domains of WFP Tanzania's work. We match these with local & international startups or custom-design solutions together with WFP colleagues and innovation partners. We then provide funding and support to teams to refine & pilot their solutions using human-centered design tools. 
3) Exploring transformative innovation: We test new approaches to innovation by leading a pioneering "moonshot" project that aims to uncover radical solutions on longer, 10year time horizons using techniques such as systems mapping and scenario planning.  
4) Build the innovation capacity of intra- and entrepreneurs: We support WFP colleagues as well as external (aspiring) entrepreneurs to build their innovation and business skills to develop and test their ideas.  
5) Catalysing the Tanzania innovation ecosystem: We play a key role in the Tanzania innovation ecosystem by convening and supporting other hubs and UN agencies through events, workshops and technical support. 
Tanzania Innovation Scan
Please use the link below to submit your startup venture to our database. Please note we are only adding teams that are working on solutions that are connected to SDG2 and/or WFP's work in Tanzania in the fields of smallholder agriculture, nutrition, logistics, social protection, climate protection, and emergency preparedness & response. This is a continuous call and we will reach out to you when an opportunity to work together arises. 
Innovation Project Portfolio
Please contact us for more information about our projects in Tanzania.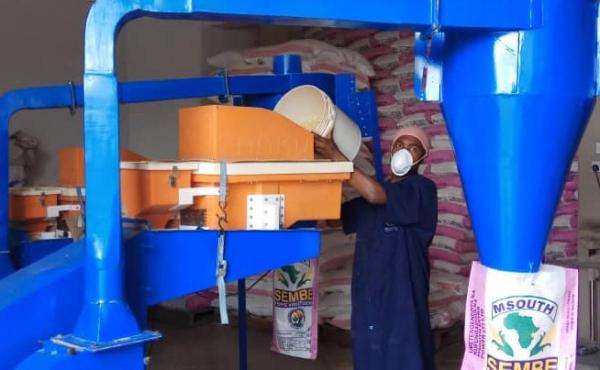 Sanku - Project Health Children
In collaboration with WFP's Munich Innovation Accelerator, the Innovation Hub is delivering a two-year scale-up support program to Sanku funded by the Bill and Melinda Foundation. Sanku provides fortification tools, training and technical support to small-scale flour mills, enabling them to fortify their flour with essential micronutrients. The company developed a cellular-connected micronutrient dosifier, and through its innovative business model enables millers to purchase nutrients together with customised flour bags at no additional cost. 
The Scale-up funding and technical support will enable Sanku to expand their miller reach in Tanzania, enter new markets in East Africa, and develop and test micronutrient dosifiers for small-scale rice fortification.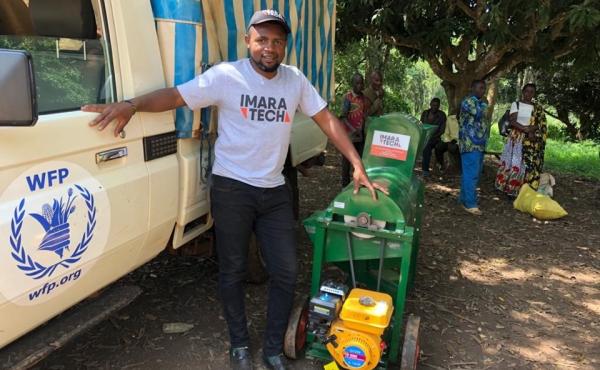 Imara Tech
Imara Tech is a Tanzania-based social enterprise that manufactures agricultural equipment for smallholder farmers. Their current flagship product is a portable multi-crop threshing machine that is 75x faster than manual methods. Imara Tech markets their products to rural entrepreneurs, who in turn offer mechanisation services to smallholder farmers at affordable rates. With their participation in the sprint programme funded by the Innovation Accelerator, they will be testing sales and production models for the thresher in Kigoma.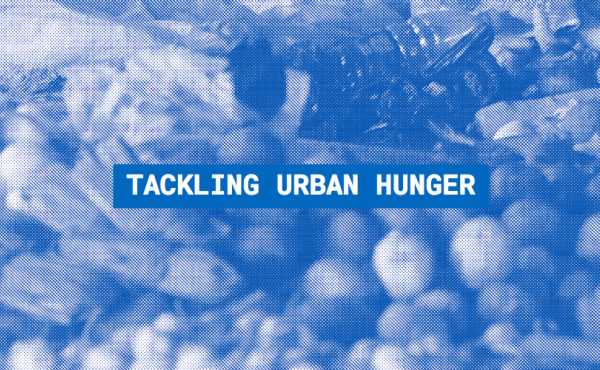 Future Urban Food Systems (WFP-X)
WFP-X is the World Food Programme's first-ever exploration of moonshot innovation for urban food security in frontier megacities of the future - starting with Dar es Salaam. 
Dar es Salaam is one of the fastest growing cities in the world, with a 60% increase in population expected by 2030. This rapid growth presents challenges in food security and access to a balanced and nutritious diet. Meeting that demand over the next decades, while strengthening the dimensions of availability, access, utilization, stability, agency and sustainability, will require solutions beyond current capabilities or incremental improvements.  
Working with 9 local innovators from the Tanzanian innovation and food ecosystem, WFP-X is designed to meet this need by generating audacious moonshot solutions to reshape the future of urban food systems; ideas grounded in data, science, and credible technological advancements.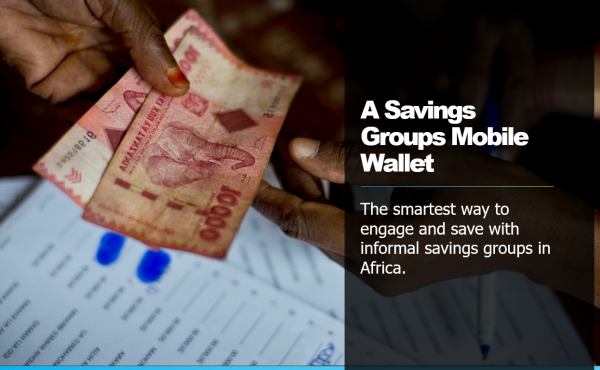 Sante Money
Sante Money is a mobile money wallet, on a mission to bank and monetize saving groups in Africa. Their solution aims to empower smallholder farmers by providing a digital platform (Sante Money App) that serves as their saving and lending group account, and provides group members access to other financial services like insurance and pension, bank loans and more. Sante Money was selected as a finalist from the zero AIDS, #zerohunger innovation challenge and received funding from the Hub to support their search towards a strong product-market fit. 
Previous Projects
Here are two of our previous projects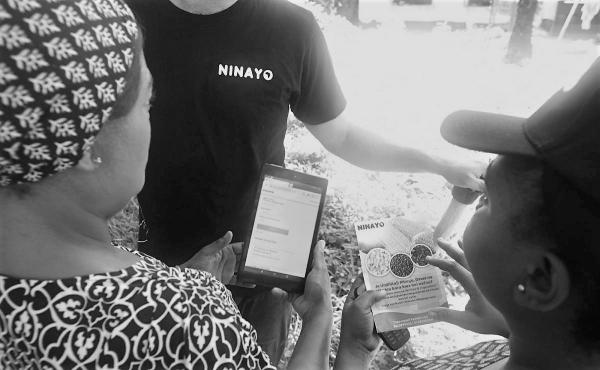 Ninayo
NINAYO is a Tanzania-based online trading platform for agriculture in East Africa. The start-up launched its operations in Tanzania in 2015 and in late 2019 joined the WFP Innovation Accelerator Sprint Programme, mainly to evaluate two new synergistic products.
They work with farmers in rural Tanzania to co-design solutions for them. Over 500 farmers are engaged with NINAYO's WhatsApp groups, coordinated through group leaders with smartphones.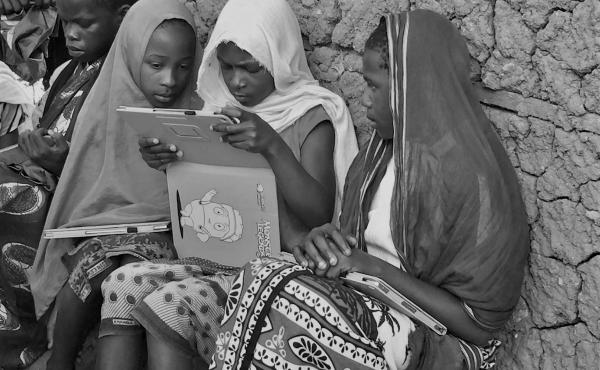 Global Learning Xprize
Global WFP has implemented a 15-month pilot to test five offline, automated software applications to identify which has the most potential to teach children basic reading, writing and arithmetic skills. WFP managed all ICT, logistics, hardware and monitoring components of the projects infrastructure, by installing over 170 solar charging stations in remote villages, managed over 3,000 google tablets used by 2700 children and conducted over 10 rounds of software updates.
Tanzania Innovation Newsletter
Sign up to our Tanzania Innovation newsletter and receive updates about our future activities and events.
Other ways to stay in touch